Trusted For +5 Years

| 17,000 Orders Shipped
The Sleep Journal
Regular price
$45.00
Sale price
$35.00
Unit price
per
Sale!
Sold out
Build good sleep habits.
SET & TRACK YOUR LIGHTS OUT TIME

TRACK YOUR TARGET SLEEP HOURS

PLAN YOUR EVENING ROUTINE
The Sleep Journal is a guided journal that helps you understand the importance of an evening routine and good sleep habits. 
The journal helps you:

🎯Set & track your sleep target for the night (# of hours)
🔦Set & track your lights out time 
✍️ Plan your evening routine in 5 quick steps
🤝 Get held accountable if that's what you want/need (optional)
💥 Bonus: Has specific tips for if you fall off the wagon
What's Inside:
Get a clear idea of WHY you're doing this, WHAT you will be doing, WHO you want to grow into through this process, and HOW you will establish your perfect evening routine & creating habits that will lead to good quality, restful sleep.
The journal provides you with all the resources you need to consistently perform an evening routine that fits YOUR life, along with helping you get great sleep on a regular basis.


Comes with informative & actionable content.


A Daily Tracking System: Set and track your sleep target, lights-out time, ways to improve your sleep, your evening routine.
Comes with easy to understand explanations of:
The importance of good sleep and an evening routine
Sleep and your physical and mental health
Sleep productivity, learning, creativity and efficiency
Understanding your circadian rhythm
Evening routine suggestions
Evening routine challenges
Overcoming obstacles
Determining how much sleep you need
Common sleep disorders 
How To use

Each day, you'll get guidance to:

- Set & track your sleep target for the night.

- Set & track your strict lights out time.

- Plan your evening routine in 5 steps

- Self-reflect with engaging questions that help you improve your progress and overall quality of life

💥 Bonus: Has specific tips for when you fall off the wagon
Free Shipping

You can expect your order to arrive in 2-3 business days depending on your location.

And as always our shipping is Free!
Return policy

We offer a 365 Day Satisfaction Money Back Guarantee on all purchases!

With our easy no questions asked refund policy, you have nothing to lose. You don't even have to return the product, just send us an email asking for a refund, that's it!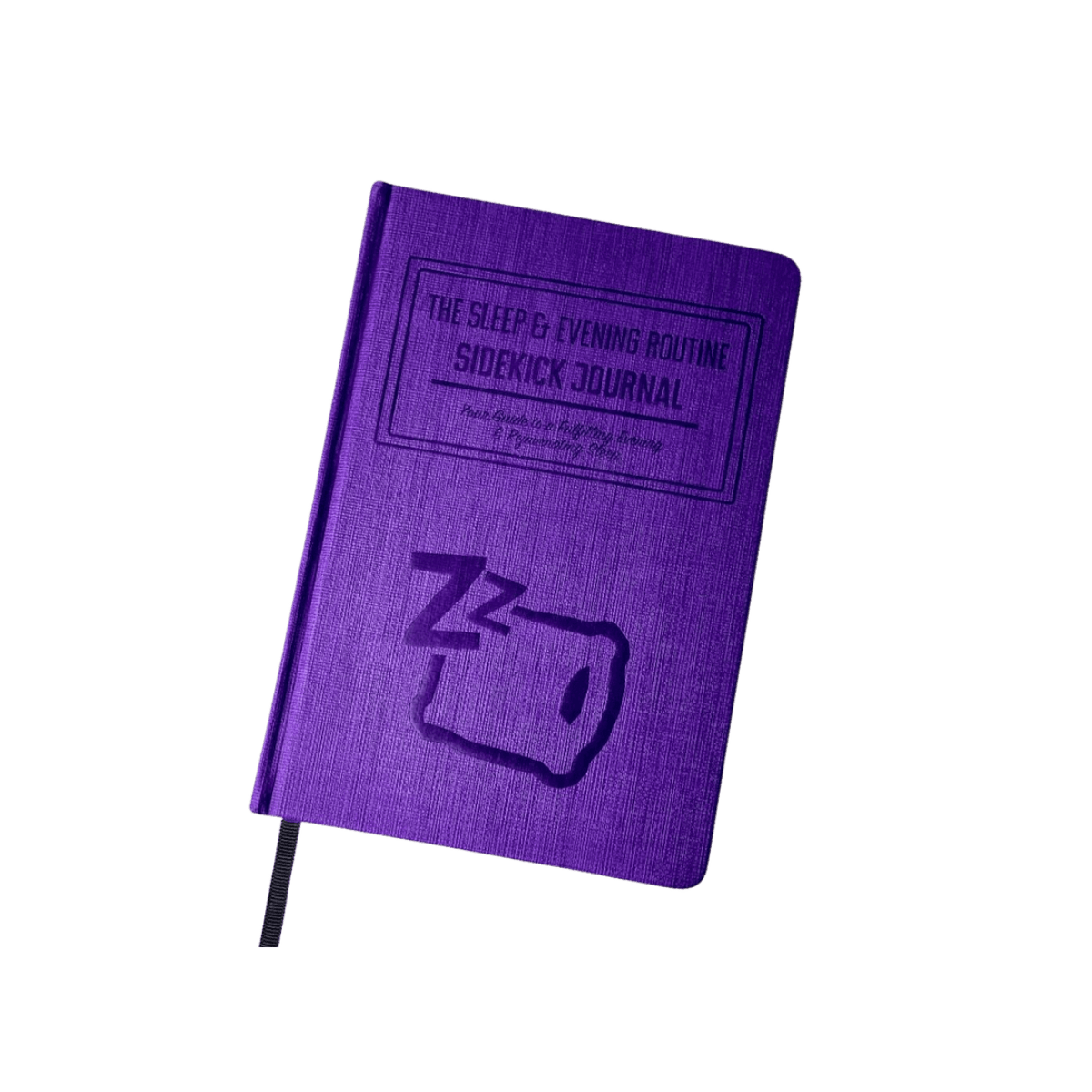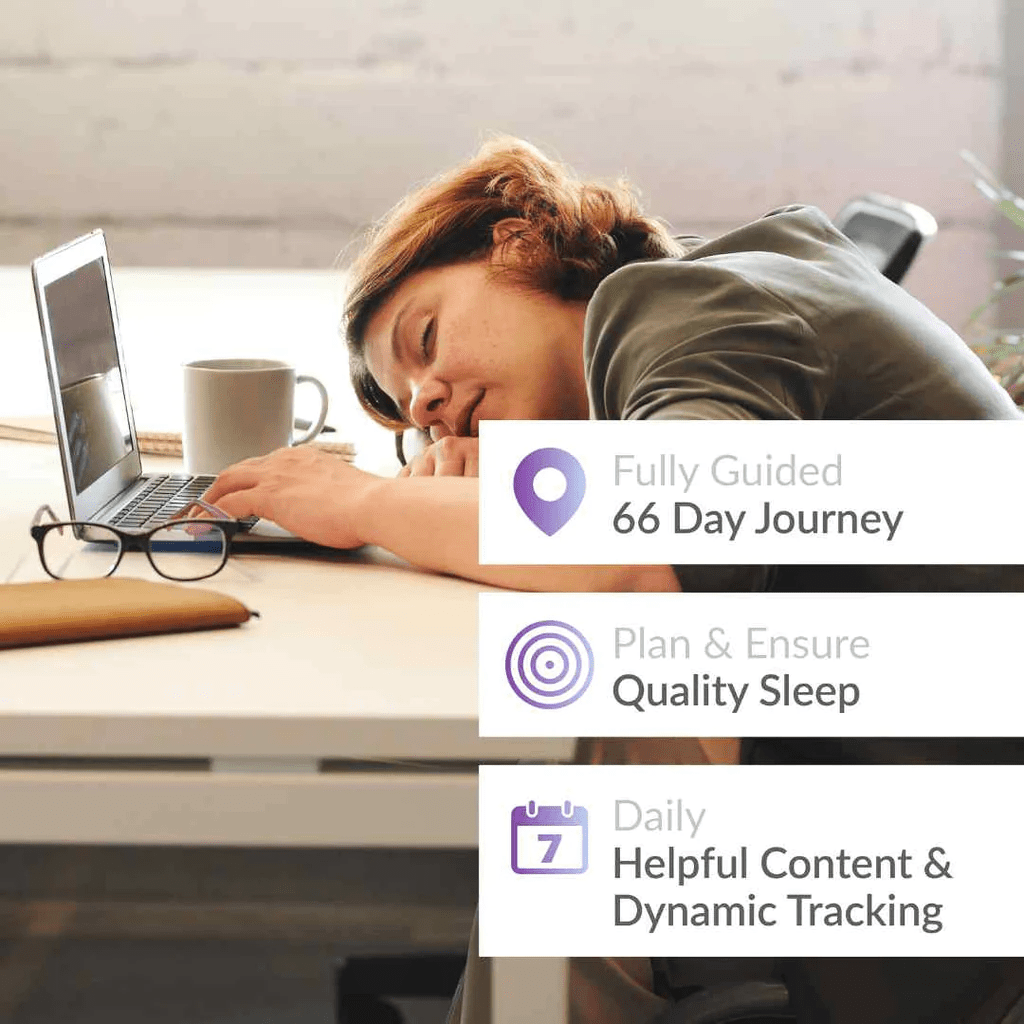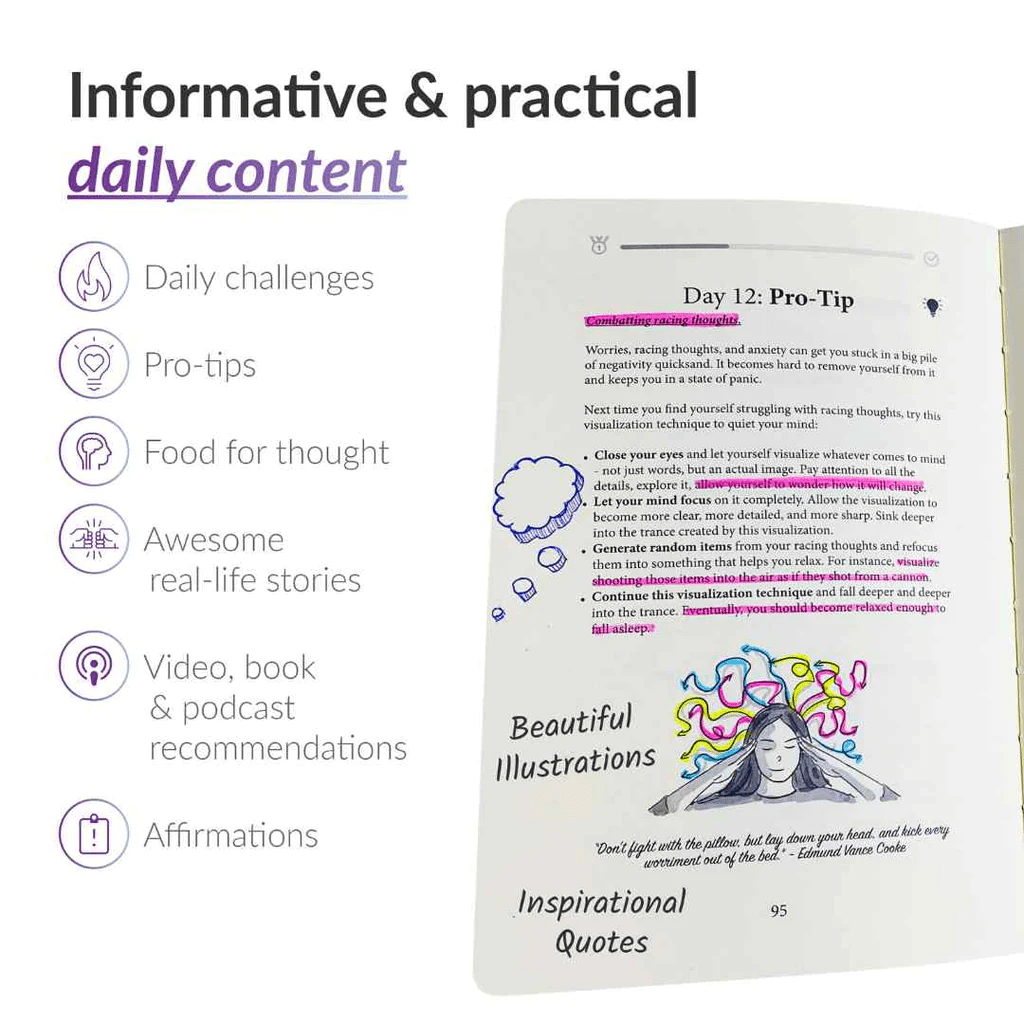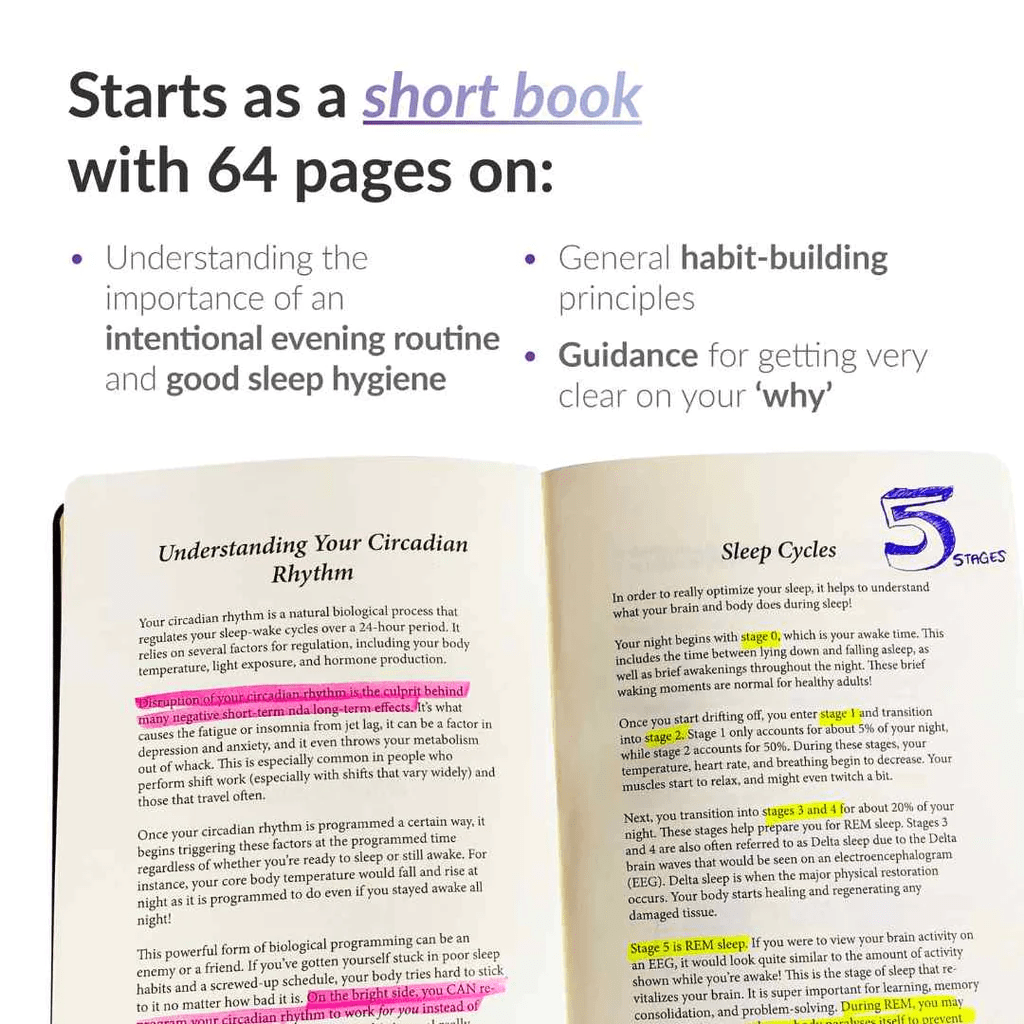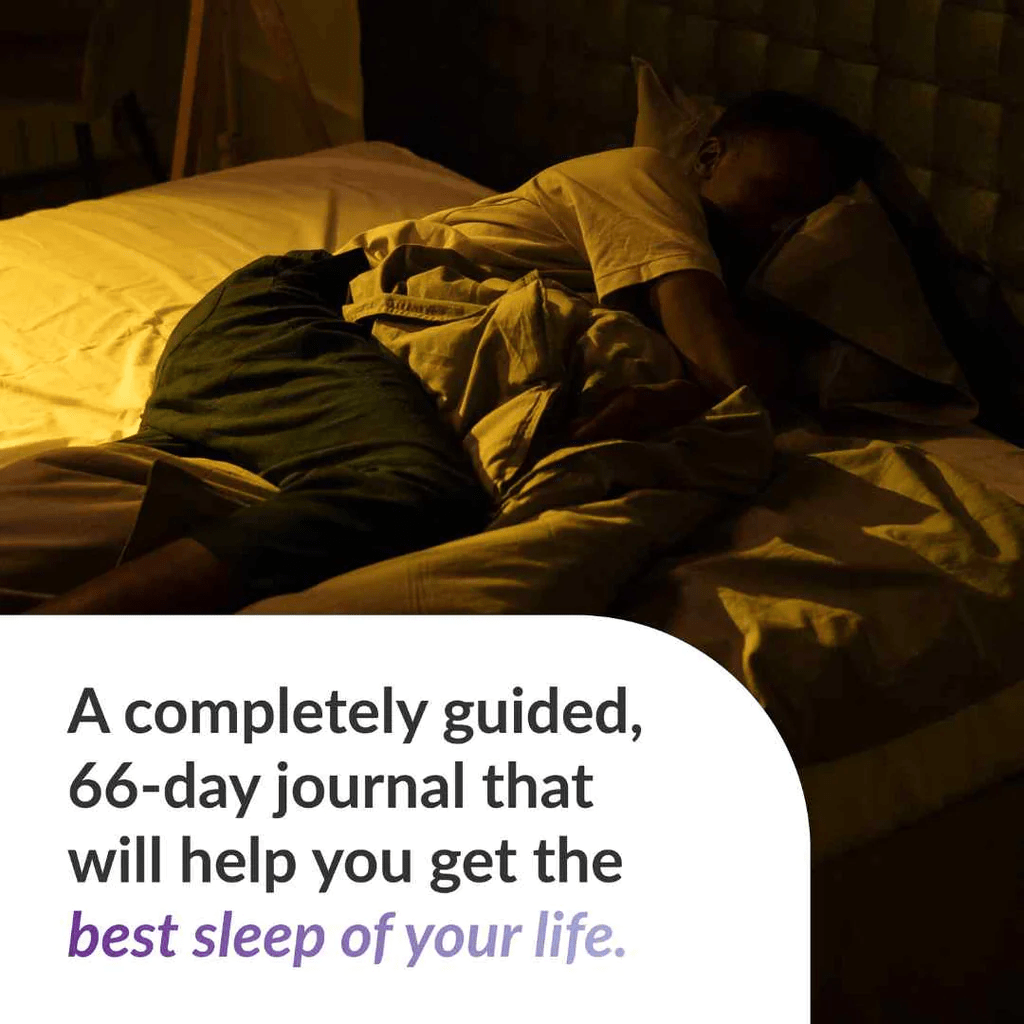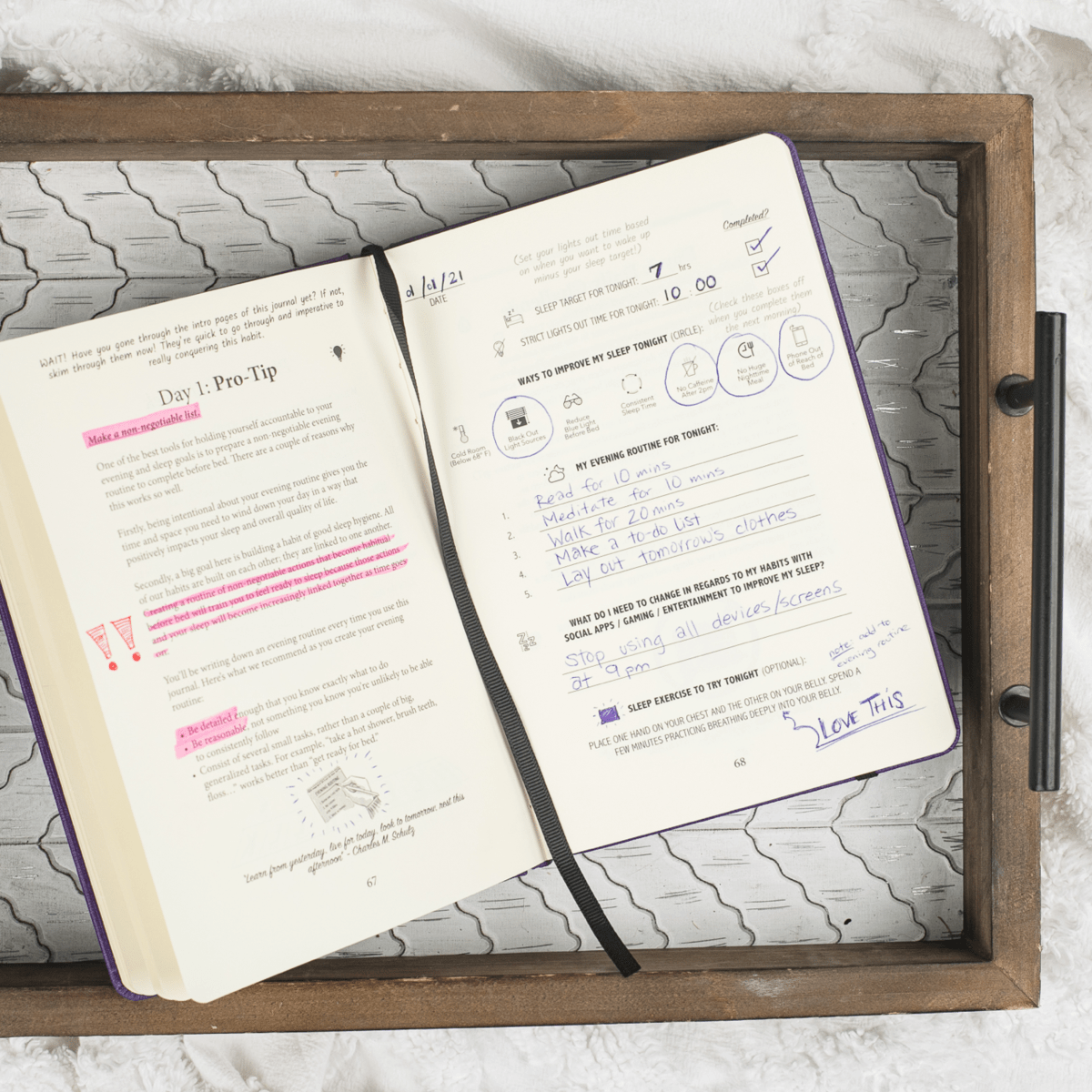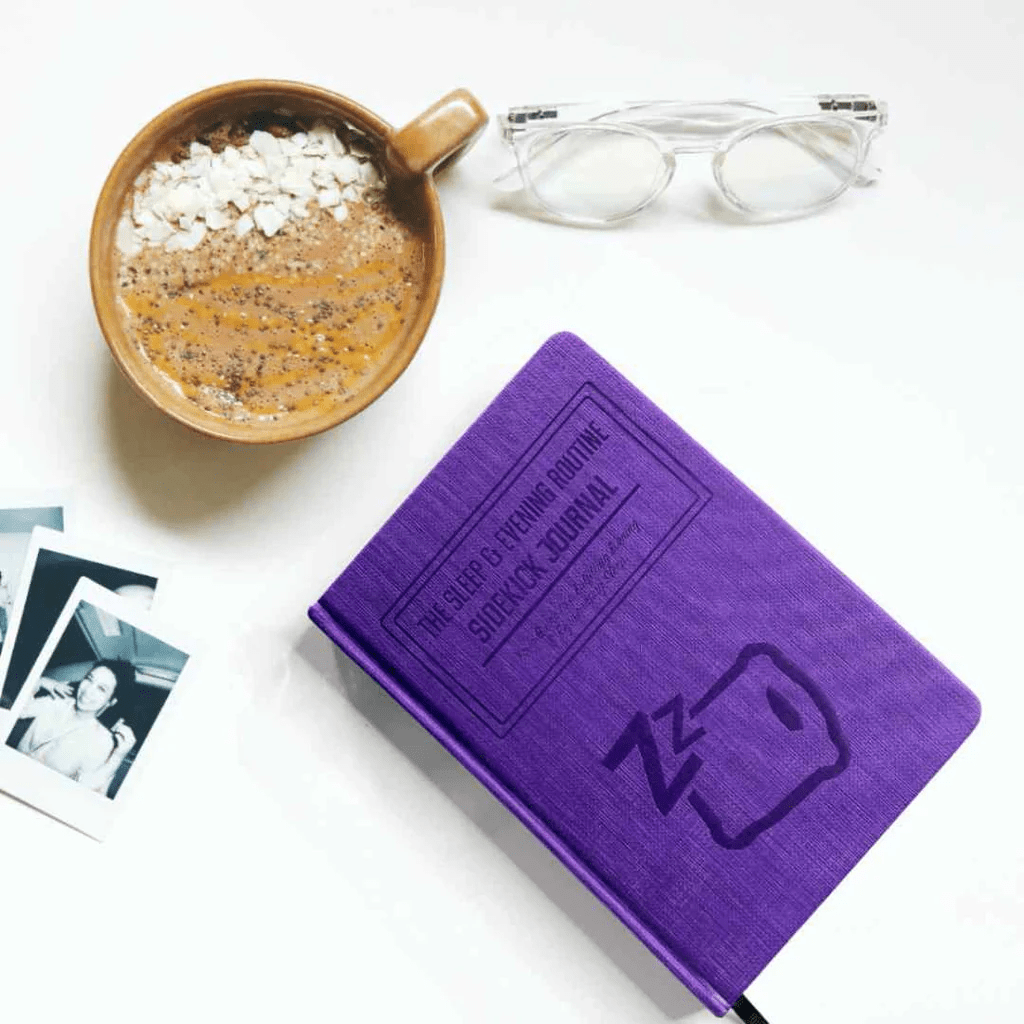 FAQ
Is this for early risers only?
No, not at all! A lot of journal users are night owls and some even work night shifts. The journal is just as effective for them as anybody else as it helps you end every day day off with a proactive routine, regardless of when you wake up or go to sleep.
How long does it take to use?
The journal is designed to be very fast to fill out daily, at roughly 3-5 minutes a day.
Is this a day / work planner?
No. The journal is built to help you plan your evenings every day and to end each day with purpose and intention.
What size is the journal? What is it made out of?
The journal runs 8.5" tall, 5.8" wide, and 0.8" thick and fits easily in most bags.It is built with a beautifully crafted synthetic leather (100% vegan) cover that's textured to the touch in a hearty, canvas-like material. The inside pages are a buttery smooth 100 GSM that are the perfect mix of thick enough to support fountain pens while still keeping the journal light and portable.
How many days long is the journal?
Each journal contains:
- 64 pages of optional introductory reading
- 66 days of content
- 66 days of habit tracking.
This is based on new behavioral research in the European Journal of Social Psychology on how long it takes to successfully build a new habit.
100% Natural, Safe And Effective Solution For Sleepless Nights!
Built with a beautifully textured 100% vegan cover in a hearty, canvas-like material.

We offer a 1 Year Satisfaction - Money Back Guarantee on all purchases!